Asphalt paving is commonly used in numerous instances due to its durability and price point. In the United States, it is the most commonly used for parking lots & roads because it can withstand heavier loads and lasts longer than most other surfacing materials. Learn More.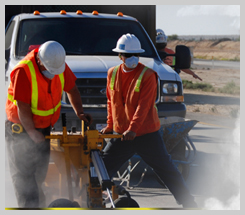 With over 50 years of combined management experience Roubin-Co Inc. is ready to support all of your concrete needs with established practices and lessons learned that cut down on program costs. Learn More.
Project management is a task taken very seriously at Roubin-Co Inc. We firmly believe that no matter how big or small a project is it must recieve the same level of dedication and committment. Learn More.
Testimonials

"Work was accomplished with a minimum of inconvenience to our homeowners and your crew performed with the utmost professionalism and skill .. . found the crew to be responsive to questions and concerns from homeowners and a pleasure to have on site"
by: Homeowner Association Board President

"We appreciate the professionalism of your firm and hope to work with you in the future"
by: Engineering Consultant for Owner